KINGSTON MICRO SD SDHC Memory Card Class 10 UHS-I 32GB VERSION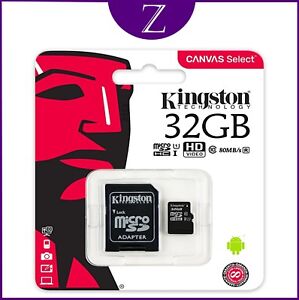 ---
WELCOME TO ZIZZOO OUTLET

32GB KINGSTON MICRO SD

UHS-I FLASH CARD WITH ADAPTER

GREAT SPEED AND PRODUCT

Product information

  Zizzoo Stationers once again brings another great deal to you. Features

Canvas Select - Bring your HD videos to life Kingston's Canvas Select microSD card is designed to be reliable, making it ideal for filming in HD and shooting high-resolution photos on your Android smartphone. This card is tested to be durable, so you can take it anywhere with the confidence that your photos, videos and other data will be protected. It's available in multiple capacities up to 256GB, to provide plenty of space to capture life's adventures. - Class 10 UHS-I speeds up to 80MB/s read - Multiple capacities up to 256GB - Built and tested to withstand harsh environments - Waterproof - Shock and vibration proof - Protected from airport X-rays - Temperature proof Understanding speed classes The SD card association defines card speeds using two terms: Speed Class and UHS Speed Class. - Speed class is the original rating used and the number defines the card speed; 4 for 4MB/s, 6 for 6MB/s. etc.

- UHS (Ultra High Speed) uses minimum write speeds to differentiate the cards; UHS-I Speed Class 1 has a minimum write speed of 10MB/s while UHS-I Speed Class 3 has a minimum write speed of 30MB/s. What the logos mean It's easy to select a card that matches the interface and speed class required by the host device, such as a camera or camcorder. Speed Class: Works with conventional devices UHS-I Speed Cass: Works with UHS-I compliant devices UHS-I: Supports the UHS-I interface When you need a faster card Here are some signs you may need to upgrade your card: Long buffering – when you press the shutter and the camera takes the shot but then it freezes until the data is fully written to the card.

Corrupted video – video cameras might produce corrupted video files if the card speed is too slow or the camera may downgrade the video to match the speed of the card. This could turn full 1080p HD video into a video with much lower resolution.

Shortened clips – when a camera has a higher writing speed than the Flash card, the camera will pause and the video clip will abruptly end once the speed limit of the card is reached.

Burst shooting – many cameras have a burst mode feature where one press produces a repeated series of photographs; this allows users to capture fast-moving events or subjects like pets and children. If the card writing speed is too slow, burst mode setting will not work.

*** Order before 3PM Monday – Friday for same day dispatch!  ***

 

Extra Information

Payment Options:

We accept PayPal and payment via credit card. We appreciate prompt payment as this speeds the process of dispatching your order and us continuing are great customer service.  Please understand that for security reasons we will only dispatch to the registered Paypal address if this method is selected.

Dispatch:

A vast majority of items are dispatched the same day however depending on payment times if we fail to do a same day dispatch we will send your item out the very next working day.  Our warehouse teams work Monday to Friday 8am to 5pm so closed weekends and also bank holidays.

Delivery Locations

There are some items that will be shipped out as first class post/parcels however if multiple items are purchased and our special combined P&P is selected then normally the item will be received within 48 hours of dispatch.  The combined P&P offer is only available to mainland postcodes within the UK (England, Wales and Scotland and excludes the Scottish Highlands, Islands or Northern Ireland).

Thank You:

We thank you for looking through our store and hope you found everything you wanted.  If there are any products you require specifically and you can't find them on our online store then please let us know as we have a vast array of over 35000 products available.