15-2019 Suburban / Yukon XL / Escalade ESV Smartliner Floor Mat 3rd Row Black 688961770264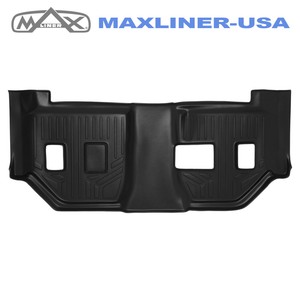 ---
SMARTLINER floor mats are custom fit so they leave no floor in your vehicle unprotected. With the help of the liners raised lip and molded outer edge, these floor mats lock in all the dirt and liquid spills you can throw at it. Specifically, the raised lip prevents anything from reaching the carpet of your vehicle, protecting it from messy accidents. This designed shape is reinforced while still keeping the floor mat flexible. These floor liners also come in a multi-purpose, standard shape so they give the interior of your car the best fitting look possible. The SMARTLINER seeks to provide not just superior protection for your vehicle, but also enhances the overall appearance of your car's interior with its textured surfaces & modern design. MAXLINER-USA Bundle Packages Cargo Liners Floor Mats Visit Store Custom Fit Liners - Please Confirm Vehicle With The Compatibility Chart And Notes IMPORTANT FITMENT NOTES

ONLY Fits Models WITH Second Row Bench Seat
| | |
| --- | --- |
| Product Sku: | C0166 |
| Brand: | MAXLINER |
| Model: | SMARTLINER |
| Color: | Black |
| Includes: | Coverage For Third Row Seats Only |
| Handling Time | Ships same day if ordered by 2pm EST or 1 business day |
| Fit Years: | 2015-2019 Chevrolet Suburban (With Bench Seats Only)2015-2019 GMC Yukon XL (With Bench Seats Only)2015-2019 Cadillac Escalade ESV (With Bench Seats Only) |
SMARTLINER floor mats are manufactured with eco-friendly and low density polyethylene materials so they leave no floor in your vehicle unprotected. With the help of their raised lip and molded outer edge, these floor mats lock in all the dirt and liquid spills you can throw at it. Specifically, the raised lip prevents anything from reaching the carpet of your vehicle, protecting it from messy accidents. This designed shape is reinforced while still keeping the floor mat flexible. These front row and back row floor mats also come in a multi-purpose, standard shape so they give the interior of your car the best fitting look possible. The SMARTLINER seeks to provide not just superior protection for your vehicle, but also enhances the overall appearance of your car's interior with its textured surfaces & modern design. Reasons to choose Maxliner USA Floor Mats:- SMARTLINER Technology: New and Improved unmatched carpet protection- Far more affordable compared with other brands - All weather protection against Snow, Mud, Sand, Salt, Water, and More! - Spill Saver Lip (Prevents spills from reaching the carpet)- Easy to Clean and Maintain (Detachable from Vehicle) All Maxliner USA products are meticulously engineered to fit each car exactly right. VIDEOS ABOUT US

MAXLINER-USA is owned and operated by Kramer America Inc. During the past decade, Kramer America has established itself as a true front runner when it comes to designing, developing, engineering, and building superior custom floor liners for the auto industry. Much of our success can be attributed to the fact that Kramer is an independently owned and family operated company. This promotes quick reaction to market conditions, efficient decision-making and implementation, as well as a hands-on approach to the process of new product development and customer relations. When you purchase a product from MAXLINER-USA you are not just a new customer, you are considered to be a new family member. This mentality, along with a true passion, tenacity and determination, has helped MAXLINER-USA to become the fastest growing auto accessories company in Central Florida and South America. We offer a broad range of automotive floor liner applications, developed with a focus on quality, style and innovation. Our two flagship lines of mats are SMARTLINER floor mats and SMARTLINER cargo liners that we manufacture for a variety of car makes and models.

We accept the following forms of payment:
Sales Tax:We are required by law to collect sales tax for various states. This will be applied once you proceed to checkout. To see the states and tax rate list please see the sales tax table under the Shipping and payments tab on this listing.International Charges:For International orders import duties, taxes and other charges are not included in the items price or shipping charges. These charges are the buyer's responsibility; please check with your country or territories customs office to determine what the additional costs will be.

FAQs

Q: How soon will my order ship? A: If we receive the order before 2pm Eastern Standard Time (EST) it will ship the same business day. If the item is ordered after 2pm EST it will ship the next business day. Q: Who do I contact for questions or needs after I receive my shipment? A: You can contact us through the contact seller system and we will do our best to reply quickly during business hours (Monday-Friday 8am-5pm EST). Q: What do I have to do if I need to return my order? A: Contact us through the contact seller system with your information and transaction number so we can issue a return authorization number and process your refund faster. Please do not return anything before you receive this number. Q: What warranty do you offer? A: All SMARTLINER floor mats and cargo liners carry a Lifetime Limited Warranty. MAXLINER-USA guarantees this warranty to the original purchaser only, warranty is not transferable. This warranty covers against normal wear and tear and guarantees that the product will not break, tear or deform under normal usage during the life of the original vehicle of installation. MAXLINER-USA will provide Warranty Service to all SMARTLINER products that break or tear due to a manufacturer's defect, or normal wear and tear. Intentional damage or damage by an outside force such as an animal chewing on the mat, or the mat being damaged while not installed in the vehicle do not qualify for warranty consideration.

©2017 MAXLINER All Rights Reserved.